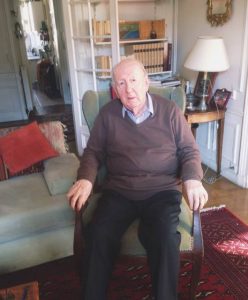 Julian Pascoe Francis St Leger Grenfell, 3rd Baron Grenfell is a former Labour member of the House of Lords where he was well known for his strong Europhile views. He entered as a hereditary peer but was granted a Life Peerage in 2000. Lord Grenfell was a programme presenter at Associated Television from 1960 to 1963 and worked as a freelance journalist from 1963 to 1964. He was with the World Bank between 1965 and 1995, serving in Washington D.C., New York City (where he was Special Representative to the United Nations from 1974 to 1981) and Paris.
When did your life acquire a Franco-British dimension?
I was born in London in 1935. I attended private school in England during the war, and started learning French at the age of seven. At that time, in private schools, it was normal to start learning French at an early age. I then went to Eton College for five years, where I continued my French studies and added German. After this, I did two years of national service in the same regiment that my father had served in during the war, the King's Royal Rifle Corps (60th Rifles). This took me to Germany, and later Libya. When I came out of the army I had to wait for about six months before the university term started at Cambridge. My father sent me to Bordeaux to work in the vineyards of the château of a friend of his. I left the Médoc – rather reluctantly- and came back to England to spend three very nice years at Cambridge where I continued to study French and German, before switching to a degree in Law. I have always had a great interest in France. After the war, my father used to take us to the South West of France for holidays. I always liked the language and learned it fairly quickly. At Cambridge, I was President of the French Society. I had a feeling that whatever I did in life, I would invariably have a connection to France. My father used to say to me – rather humorously – that that was no surprise, as our family originated in Normandy back in the 11th century. They arrived in England as military knights to serve King William Rufus, the son of William the Conqueror. They settled in the South West, where they were given lands in Cornwall as reward for their services. I suppose I still have a little grain of French blood in me. The village they came from, Grinvilla, is now called Grainville.
After that time in Bordeaux, when did you move to France again?
After finishing university, I worked in television. After a while, I was offered a post in Washington, to work for the World Bank. The President at the time was looking for a speech writer. I started working there with a two year contract and stayed for thirty years. I loved my job and really appreciated the fact that I was living and working in a very international environment. It was a joy to be working with people from every corner of the world. I travelled enormously – over 70 countries in that period. I wasn't always in Washington though. After five years, Robert McNamara was elected President. He had served as Secretary of Defence under Kennedy and Johnson and was a rather controversial figure. He was a brilliant President to the World Bank. We got on very well and so I worked closely with him. He arrived in 1968 and in 1969 asked me if I would like to go and work in Paris as the Head of External Affairs of the World Bank European office. I willingly accepted and spent 5 years there. In 1974, McNamara created a permanent post at the United Nations in New York and offered me to become the resident Head of the World Bank Delegation to the UN. After seven years, when McNamara retired, I went back to my old job as a speech writer and served the new President for five years. When he retired, I was offered my old job in Paris. I then came back here and stayed in the job till the end of 1995, when I reached the age of 60. At this time, I had a (hereditary) seat in the House of Lords that I decided to take up. In the meantime, I had been divorced and had met my current wife Dagmar in Paris. She was Head of Marketing at TV5MONDE, and we met through mutual friends. When I retired from my job in Paris I reassured her that we would not have to move back to London. Eurostar had just started and I could go to London on Monday mornings to work at the House of Lords and come back on Fridays. I did that until I retired from the House of Lords in 2014. It was the right moment to move full-time to Paris, as by that time she was retired too.
According to you, what is so special about the Franco-British relation?
One of the things I love about the Franco-British relationship is that we are historical competitors and rivals, and yet we share the same values and are more like each other than people tend to think. The rivalry goes back to William the Conqueror, I suppose, and to historical rivalries like that of Louis XIV and Marlborough, Napoleon and Wellington. Nowadays I have the feeling that whenever something goes wrong in France, the British are secretly rather pleased or amused, and vice versa. I believe this has been largely the fault of sections of the British media which poison the British view of the French. This is a great pity because we do have a lot in common and there remains a strong bond of friendship between our two nations. I am not pessimistic about Franco-British relations. I am of course pessimistic about Brexit, but we have worked closely together for too long to move too far apart in the end. The ties are in our DNA.
How do you perceive/envisage Franco-British relations in the post-Brexit context?
The relationship post-Brexit will be a little difficult. The elephant in the room is always the USA. Britain's relationship with Europe including France after Brexit is going to be influenced by Britain's relationship with the USA. Until Trump became President, the assumption always was that the Anglo-American relationship would remain strong (although not as strong as the British like to believe). The British tend to have thought that the relationship was unbreakable, but that is no longer the case. I think we will find that France's attitude towards Britain will to some extent depend on what happens to the Anglo-American "special relationship". If we step outside the EU, we are an island sitting in the sea between Europe and America. The temptation of Britain is to look West, but this may change due to the nature of the new American regime. I urged on the British Embassy in Paris that Britain should not go out of its way at this moment to try and strengthen the relationship with the USA. Britain may find that it has made a mistake and Trump, unlike his predecessors, may not be interested in reinforcing the relationship. If, on the other hand, Trump does single out Britain for favourable treatment, our erstwhile European partners, including France, may distance themselves further from us.
Do you think there are areas in which the Franco-British cooperation could/should be strengthened?
In my opinion, as I pressed upon my British colleagues, there is one area crucial above all others in which the relationship should be strengthened, or furthered. We should continue focusing on security and defence. France and Britain have a long history of this through two world wars and beyond. More recently, there was the Saint-Malo Agreement in 1998 signed by British Prime Minister Tony Blair and French President Jacques Chirac and the Summit in 2014 where Cameron and Sarkozy promised even closer military and security cooperation. This is something that should be built on. There are great similarities between the military structures, procedures and strategies of both nations. We work very well together in the field, and except on very rare occasions present a strong united voice at the UN Security Council and in NATO. France and Britain together provide 43% of Europe's funding of NATO. There is every reason to cooperate.
But let me add some other areas that to my mind are crucial. Exchanges between the young French and the young British must be strengthened too. Brexit must not stop this. We have to make sure that young French people still feel welcome to come and study in the United Kingdom. We also need to get more young British to France, and overcome the language problem that many of them have. There is no way you can remain optimistic between the relationship of Britain and France without the young people there to build it. They are the future. Incidentally, a poll this week shows that 65% of Britons aged between 18 and 24 say it is wrong to leave the EU. Their future has been betrayed by the over-65s who voted 62% to leave.
There are also institutions that will survive Brexit. The Franco-British Society and The Franco-British Council are excellent bodies and will become more important when we lose our EU membership.
Scientific research is important too. Brexit must not break university partnerships and research bonds.
You have been a fundamental supporter of the Franco-British Connections throughout the years. What first motivated you to collaborate with this association?
My direct involvement dates back to the Entente Cordiale anniversary in 2004. I had returned to Parliament in the year 2000 after losing my right to sit in Parliament after the House of Lords Act 1999. I was appointed Chairman of the Select Committee on the European Union in 2002. In that position I became part of a network of European political figures in various countries. When I travelled to Paris for the Entente Cordiale Anniversary in 2004, to which I led the House of Lords official delegation, I encountered members of the Franco-British Student Alliance and joined them for a discussion the next day at the French National Assembly. For a time I provided them with advice and assistance until there was a split with some members leaving to create the Franco-British Connections. I went with them. Over the years, I have tried to advise them and encourage them and have also hosted meetings at the House of Lords.
I think they have done incredibly well throughout the years. They are very focused and I have high hopes for them. They need more members and sponsorships but they are working hard on that. The Young Leaders programme is excellent and they have great people. I have learned a lot from Jean-Pascal Sibiet, President of Franco-British Connections. He is one of the young people I know in Paris whom I truly value.
What is your favourite aspect of French culture and traditions?
Culture is a broad term. I have always had a passion for French literature particularly of 18th and 19th century. I was brought up reading Victor Hugo, Balzac and Stendahl. I love French architecture. I am a bit old fashioned about it: I love Paris's Haussmannien streets and France's old châteaux. I love the French country side and French cuisine. I used to love French cinema back in the days of cinéastes such as Chabrol, Truffaut, Godard and others of the Nouvelle Vague. Contemporary French cinema I like less.
You mentioned you love literature. Are you also a poet or writer like your ancestor Julian Grenfell? Are you an admirer of his work?
I do admire his poetry, but less the man. His best-known poem "Into Battle" glorifies war. He was a war enthusiast and I do not share his conviction.
I enjoy writing. I have published three historical novels and I am working on my fourth. Each book is set in a country or countries with which I have a strong connection and speak the language. My first, "Margot" is set in the UK and France, my second, "The Gazelle", is set in Germany, and my third, "The Widow of Honfleur", in France. The fourth, "Mussolini's Bowler Hat", is set in Italy.
I also enjoy writing poetry to entertain myself, but I have no desire of publishing any of it. 
What are your views on Brexit?
Although Theresa May said that she can complete negotiations to withdraw the UK from the European Union in two years, I think that is very unlikely. In any case, I am one of a small minority who thinks that Brexit will not happen. There are four strands of thought surrounding Brexit. 1: Brexit is marvellous. 2: We don't really understand it and therefore we will leave it to the politicians to decide. 3: It is an awful mistake but we will have to make the best of it. 4: It must be stopped.  I believe that it can and should be stopped. Article 50 is not the end of the affair. Almost everyone has assumed that once Article 50 was triggered, there could be no turning back. But it turned out that the treaty had not been read properly. A friend of mine, Lord Kerr, who actually drafted Article 50, has reminded us that it is nowhere stated in the Treaty that we are not free to change our mind. Until the final treaty of withdrawal is signed by all the parties we can still say "we've decided after all to stay in the Union."
If the deal is really awful and if those who speak with authority in Britain succeed in explaining that to the people, the decision not to go ahead may be taken. They can either call for another referendum or they could force the government into a general election or make enough noise for government to decide it is not a good idea after all.
One of the points that Brexiteers have been making is that the economy has not sunk as predicted but is growing. But of course we are still in the EU. Wait to see what happens after. In the meantime some of the most respected Cross-Channel economists are pointing to the fact that the economy will start to sink in 2017. Prices will increase as imports will be more expensive after devaluation, there will be no wage growth and inflation will continue to rise. It is then that people will see the significant impact of Brexit. We have 18 months to persuade the British government and people that Brexit is not the way to go.
Should the general public continue to manifest and raise their voices against Brexit? Will this have some sort of impact?
Keep up the pressure. There is a good narrative there. What Theresa May is beginning to understand is that negotiators across the Channel want to be fair but need to put the interests of the EU first and protect themselves. EU negotiators do not want to encourage other countries to leave the EU and it would also be wrong if Britain left the EU with better terms than when they were still in it. Britain will leave with an unsatisfactory deal.
My point here is: they still have the ability to stop if they want to. It is not in the interest of the British.
You begin to see in the polls many who voted to leave saying that what they are now learning is not what they expected: where are the 350 million pounds a week for the NHS? Where are the Turks who they were warned would be pouring across our borders?
I may be in a minority, even amongst my former comrades in Parliament who voted for Britain to remain. But I strongly believe it is up to those who have the narrative of the argument for remaining to build this case and make people understand the true cost of leaving the EU. It is not too late.
Interviewed by Eugenia Esteva Vegas
Franco-British Portrait Gallery