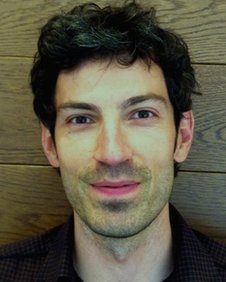 French journalist in London for Radio France
Where did you study and how did you end up working for France Inter in London?
I have a fairly common educational background. I studied business and finance at the University of Concordia in Montreal and then I went to the school of journalism in Lille. Just after I graduated from Lille, I did a summer internship at France Inter, followed by a series of short-term contracts and then obtained a permanent position there in 2002. I was first hired as a 'joker',
which is a position where journalists do a little bit of everything: presentations, reporting… Then, until 2006 I was only a presenter – I worked in the morning programmes and moved towards the international service where I worked from 2008 until 2010. In January 2011, I was appointed as a correspondent in London. It is a 2 year position, which can be renewed once, so most of the time a correspondent abroad stays in the country for 4 or 5 years. I have been in London for a year and three months now.
How good was your English before you arrived in London?
I had a fairly average level– I studied English at school, university, did a few summer schools, and punctually worked abroad, (mainly in the USA) but I don't come from a bilingual family. My English is much better now than when I first arrived in London but I cannot say that I am fully fluent. I think it takes time to grasp all the subtleties of a language.
How is your average day?
It is very dense because I work for all the radio channels of Radio France (France Inter, France Info, France Culture, le Mouv', sometimes even France Bleu). Besides, there is a daily work of reporting on current events but there is also 'magazine' work which I do, whereby I try to prepare longer topics of 5 or 7 minutes on British society, as well as documentaries for Interception (a programme on France Inter) – these are 45 minute long, and require a lot of preparation but it is richer work and enables me to understand how a society works.
So I usually wake up at 7am and listen to BBC Radio 4, which is a prerequisite for any journalist here I believe. I also read all the newspapers which are delivered to my doorstep every morning. And then I make suggestions for topics to Radio France and/or receive commands for specific subjects, I would say it is half/half. I often finish late at night, but as I work from home I can take evening breaks to spend time with my family and then usually go back to work.
In your eyes, how different are French and British journalism?
There are a lot of differences and I think it is really fascinating. The French are a lot more deferential towards powerful personalities and less incisive. The newspapers and magazines
are much more opinionated and politically committed in the UK. And then you have the 'man hunting' phenomenon, which means it is difficult for a man or a woman to get away from the attention of the press. We saw that we the MPs expenses scandal. I think French media would have had a different approach.
Then you have the BBC which has to be as objective as possible, but still, if you listen to the way interviews are conducted, journalists are less deferential than on any French radio channel. In early September 2012, Evan Davis, a star presenter of BBC Radio 4, while interviewing Prime Minister David Cameron compared the August riots in London to the behaviour of members of the Bullingdon club, an Oxford University society to which David Cameron belonged, notorious for the bad behaviour of its rich members who are known to break everything when they get together and pay the damages with "daddy's money".
Then the French are more attracted by intellectual matters and abstracts concepts and that is visible in the contents of the programmes/articles. The British are more prosaic – in a good way ! – and therefore greater importance is given to very concrete economic debates for instance. That is why the British are more incisive: they go straight to the point, whilst remaining very courteous.
I realise that in press conferences, the questions asked by British journalists are a lot more direct.
One more thing: the press here is definitely the fourth power. To be a journalist in Britain is quite something because journalism has power in this country. They are better paid as well. In France, a politician can decide to reject invitations from a Radio channel for months or even years which is not conceivable in Britain.
I wish journalism had that much weight in France. On the same line, the press in France has a smaller readership than in Britain. In Britain you have millions of people reading tabloids which consequently have a huge power.In France I think that only the local and regional press still has this kind of influence.
Also, a major difference in the conception of the press in the two countries is that the British aim to sell a maximum of papers, whereas in France, medias do want to be read and listened to but that is not the main priority. What primarily matters is to conceive or write good programmes, which is, obviously important as well in the UK, but sales matter more in the UK than in France.
In France, the star is the editorialist, whereas in Britain, people also want to read articles by businessmen and CEOs. Mervyn King, the head of the Bank of England is extremely influential for example. But then, here, economic journalism has a special position. It is the priority. Whereas in France, politics are the top priority.
What do you think of the French community in London ?
Well, I am no expert here. But when I first arrived, I had heard that the French community in London was like that of the West End in South Kensington, with large houses, the husband working in finance at the City, the wife sometimes staying at home. Some even said that it was even a new Seizième Arrondissement. I cannot deny that it does not exist but it is much more varied. I think the French community in London is increasingly like France, with age, class and ethnic origins in tune with contemporary metropolitan France.
Interviewed on 18 May 2012 in London
Franco-British Portrait Gallery
© Charlotte Faucher and Nathan Kably