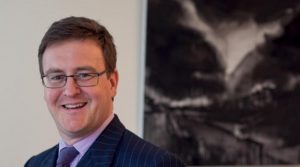 Nicholas Hammond is the Headmaster of the British School of Paris.
Can you briefly describe your background prior to being appointed Headmaster of the British School of Paris in September 2014?
I grew up and went to school in the East of England. I studied archaeology at the University of Cambridge and worked as an archaeologist and pub cook for a year. I then decided to move on to teaching and achieved my Postgraduate Certificate in Education from the University of Oxford. I have taught in schools in Edinburgh, the Highlands of Scotland, East Anglia and Bristol. I came to Paris from Wisbech Grammar School, where I worked as a Headmaster for six years. My wife Nathalie is French and I have two kids who are bi-cultural. I had always said to my wife that if the opportunity to become Headmaster of the British School of Paris became available, I would apply for it. I wasn't necessarily looking for a job abroad, I was particularly interested in working in Paris, or France.
The BSP was founded in 1954 and is one of the world's older international schools. It is also considered one of the best international schools in Europe. What do you feel has contributed to the building and maintaining of its reputation over the years?
Our school has established itself within its community. We are very proud of the links that we have with local schools and local organizations. The school does not see itself as isolated but integrated with the local community as much as we are able to. This is one of the things that makes us distinct. The school has also added to international education by offering a blended approach, with a wide range of teaching styles (modern, old-fashioned, interactive) and access to latest technologies. The philosophy of our school is to look and find the best in every individual. We offer a tailor-made education and not a simply systematic curriculum.
Why is learning foreign languages important?
Languages are of a fundamental importance. They are the key to our means of communication. Without an understanding of foreign languages you have no hope of understanding the culture and attitudes of the people that you may be working with, or simply meeting. Similarly, you can't fully understand the history of a country without possessing a basic knowledge of its national language. Teaching foreign languages to children at a young age is decisive. Children have a much richer capacity to develop and acquire many languages than cognitively mature adults.
We have children at the school who, even at the age of six or seven, are probably native tongue standard in three languages and also have a very good working knowledge of another two. These children have normally lived in several countries, as they have parents with careers and jobs that mean moving around a lot. An unusual thing about this British International School is that the average stay for a child at the School is three years. Some students stay for three years, others for five… Almost none of our students stay at the school for the entire duration of their primary and secondary education. The school is highly mobile in terms of its population.
We have children from over eighty nationalities at our school with a good number holding more than one passport. We are multi-cultural community and it is essential for us to promote understanding and tolerance. We have a series of events throughout the years where students are able to celebrate and share their cultures and national identities. Our students often gain a deep understanding of different cultures and tend to have an internationally-wide view of the world that other students at others schools do not necessarily have.
What are the differences between the French and the British education systems for primary and secondary schooling?
The two systems are very different. Both systems have significant strengths and probably areas that could be improved. I know that the French educational system is excellent academically, but I only feel comfortable speaking about the English system.
British education looks to develop an individual's particular talents and allows for the creative curriculum (music, drama and the arts) to be valued in the same ways as the science or social science elements.  Pastoral care is important, it is a widely accepted idea that children who feel secure and supported in their school life perform better academically.
Extra-curricular activities are also given a high priority as we believe that these play a vital role in child development
Hypothetically speaking: if you had to convince a French friend of yours to enrol his/her children in a British school instead of a French school here in France, what advantages would you speak of?
The British educational system has a significant degree of rigour. There are exams and significant academic expectations but there is also room for people to explore all elements of their talents; be they sportive, creative, artistic, musical… Our system is not a matter of straightforward academic subjects. We address the educational needs of the whole person. We are interested in developing their potential, no matter what that potential is. We want to exchange our best as teachers for the pupil's best in terms of performance, in whatever aspect or element of their educational career. We are extremely flexible in terms of looking at the pupil as an individual. We support students through the subjects that they are weak in and challenge them on the areas where they are strong. I think this bespoke approach is the strength of the British education system.
What percentage of your students choose to apply through UCAS to universities in the UK? What is the appeal of UK universities to French students?
The vast majority of our students choose to study at UK universities, about an 80-85%. However, we also have students that apply to universities in the US, Belgium, Australia… and of course, France. Our students are fortunate enough to be able to consider a wide variety of options. Their choice is not automatic.
Many students choose to study in the UK because they are familiar with the British system. It is a logical progression for them. British universities, like French universities, have a worldwide reputation for excellence. There are a significant number of British universities at the top of leading international rankings. That may also be a reason to be interested in what the UK has to offer.
French students constitute a 2.8% of all international students in the UK (2014). A significant number of these students come from the French education system and have done the baccalauréat examination instead of A-Levels or IB. Do you feel that these students will be at a notable disadvantage at the start of their careers?
I guess it really depends on the individual. There will be many individuals that will have done the equivalent of A-Levels in their home country and will do perfectly well. Others will benefit from the tailored A-Levels, as these exams offer a secure ground for British tertiary education. In some subjects like maths and particularly the sciences you can certainly be at an advantage because there is a significant amount of practical work involved and A-Level students will probably be familiar with sections of the first year undergraduate curriculum. Otherwise, British universities have, particularly in the last 10 years, become very globally-minded and are good at dealing and understanding international students and their different qualifications.
Are you familiar with the opportunities in France for UK teachers?
There are a number of limited opportunities for UK teachers here in France. A UK trained teacher is also able to teach the international baccalaureate system so there are several opportunities to teach both in Paris and elsewhere in France. Our teachers often stay with us for a few years and then either return to the UK or move countries.
Are there many particular bureaucratic stumbling blocks for UK teachers wanting to work in France?
At the moment, there aren't. I do not know whether this will change in a near future.  Only time tell with regard to the ongoing questions over Brexit,
Is it mandatory for teachers to have a working knowledge of French?
It is not mandatory for the school's staff to have a working knowledge of French, but it is desirable for them in the private sphere. We offer French language lessons to all of our staff and to our parent community.  It seems only sensible for people living in France to learn some French!
Do you like living in France?
I love France. I absolutely love France. I have a bi-cultural family and it feels very natural to me to be here. We are extremely fortunate to be living in the West of Paris. We have a magnificent city 25 minutes away and fantastic countryside in the other direction. France is an amazing and varied country. The regions of France are absolutely magnificent. France has everything: it has incredible cities, mountains, ocean, fantastic food, fantastic wine, fantastic people… I can't imagine of a place where I would rather live.
Interviewed by Eugenia Esteva Vegas
Franco-British Portrait Gallery