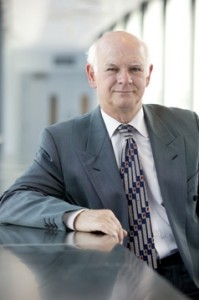 Your education and career?
I was in Sixth Form at Manchester Grammar School and then at Oxford, I took a course on History and French, and it was possible to spend a year in France. So, I was made a teaching assistant in English – or, as they said back then, in the English system – at Lycée Thiers in Marseilles. I then took on a position at the British Council at Marseilles for six months before returning to the United Kingdom.
So it was at that point that I told myself that I should add something to my education. But rather than go to the École Nationale d'Administration (ENA), as was possible for young British diplomats at the time, I finally came to the conclusion that I wanted to go to business school. I applied to INSEAD, but also to Stanford, and in the end, I chose Stanford, and it was the end of the story for me and France, for then.
What is the added value of a Franco-British education or career?
I think that depends on the career that you choose to go into. If, for example, you are interested in working in the institutions of the European Uninn in Brussels, or in a diplomatic career, or even in a ministry in Paris or London, where a lot of work takes place in a European context, taking into account directives and so on, it is useful to understand how the French see things, and how the British see things. So it is a big advantage if you want to pursue a career at the European level. But I also think that the differences between the countries, with regard to  their attitudes to the economy, to capitalism, to regulation and so on, make it very useful to have experience of both countries. It adds something to your ideas on how best to organise government, and how to deal with banks and financial institutions, for example.
Interviewed on 15 September 2010 in Saint-Germain-des-Prés, Paris, France
Franco-British Portrait Gallery
© 2010-2012 Jonatan Thompson & Jean-Pascal Sibiet