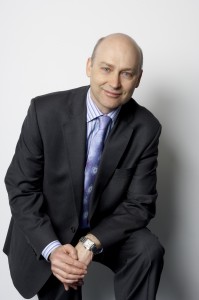 Education Director at TOTAL
As Education Director, Andrew Hogg is responsible for setting strategy and delivery of Total's global Education policy. He manages relationships with higher level educational institutions worldwide and supports targeted 2nd level education projects whilst building the Group's reputation as an employer of choice.
Dr. Hogg holds a PhD in Geology and Petroleum Geology – sponsored by Total – at the University of Aberdeen, Scotland. He has an MSc from the University of Toronto, Canada where he was a Junior Fellow of Massey College. He took his bachelor's degree in Geology at Trinity College, Dublin, Ireland. He started his career as a geologist with BP plc and has since worked in a variety of roles in the oil & gas sector including business development, public affairs, communications and HR located in Canada, France, Kuwait and the UK. He took up his role as Director of Education for Total SA in April 2015.  
Convinced of the potential of the digital education, in 2015, Total has supported the MOOC on Oil & Gas of the IFP School. It was very successful gathering over 21 800 participants coming from 140 different countries and had a completion rate of 28% –about 4 times more than the average MOOC.