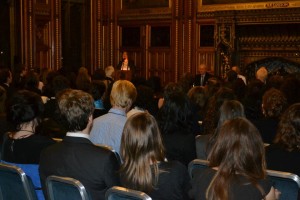 On the 8th of December 2011, Baroness D'Souza and Lord Grenfell hosted an evening of speeches and debate in the Robing Room of the House of Lords for members of the Franco-British Connections.
This took the form of presentations from various personalities on the theme of parliamentary experiences on the promotion of cooperation between France and Great Britain with regards to higher education. After welcome words by Baroness d'Souza, Lord Grenfell introduced himself, and gave a brief history of the room we were in and explained his involvement in higher education systems in Britain and France. The first keynote speaker, Lord Giddens, ex-director of LSE, spoke about the impact he saw government policy was having on universities; an issue he had recently raised in Parliament. He highlighted the worrying impact of the recent tuition fees increases in the UK and the negative impact this will have on university cooperation and opportunities for UK students. The second keynote speaker, French Ambassador to the United Kingdom Bernard Emié, then shared his views on the "remarkable state of the cooperation between both countries in various domains, such as the educational system and the military". He highlighted the current efforts in France at both the legislative and executive levels to further promote cooperation in education.
Between the speeches and the Q&A sessions, Baroness Quin gave a brief introduction to the work of the Franco-British Council, and Mr. Noakes presented the activities of the Franco-British Society.
The keynote speeches sparked debate amongst the audience, students and officials alike, which made for an interesting half an hour of Q&A. There were questions originating from student representatives from many of the universities represented, which included Cambridge, ESCP, Imperial, Kings, LSE, Oxford, Queen Mary's, Sciences-Po Paris and Lille, SOAS, UCL. It was a true multi-university occasion.
The debate was followed by a drinks reception, with some House of Lords house white and red, during which groups of students carried on with the discussion in small groups with some of the speakers.
Report by: JN. Citti & A. Mason