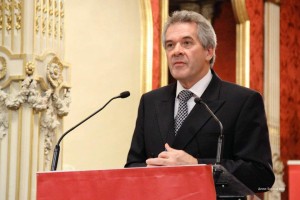 On the 24th of November 2011, the FB Connections organised a debate on "the freedom of the press in France and in the UK", held at the British Embassy in Paris, and organised by its debating arm, the FBCP.
Our host, British Ambassador to France Sir Peter Westmacott, gave an introductory speech, which was followed an explanation of the debating rules presented by Jean-Pascal Sibiet. The debate was to be held in the style of a (British) parliamentary debate, an unusual format in Paris.
The speaker could for example be interrupted every time an MP stood up and placed his hand on the top of his head asking the permission to intervene. Interestingly, all young debaters abode fully by the rules, creating a dynamic atmosphere with good backing from the crowd.
Two teams of four took part in the debating challenge; one of them defended France, the other the UK. All the debaters had an excellent command of the English language and were students of alumni of top universities across the channel, such as Oxbridge, Polytechnique and Sciences Po. The debate lasted approximately 45 minutes, with one speaker from each team presenting after the other. Both teams were well-prepared and had planned their arguments meticulously in order to defend their ideas in a structured and convincing manner.
Whilst the judging panel deliberated, we enjoyed a musical interlude with the aptly chosen London Trios from Haydn, allowing students to relax and mingle. When the results came out later in the evening, the French team was crowned winner. The teams, judging panel, then went for a pre-dinner drink in the Embassy's parlour in order to continue exchanging ideas.
Report by: JN. Citti & A. Mason