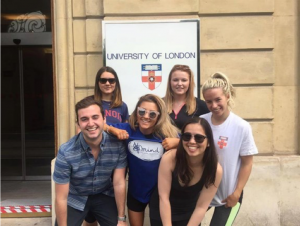 The University of London Institute in Paris (ULIP) is proud that, for the third year running, its students are organising the Tower to Tower Bike Ride. A team of ULIP students will be cycling from the Eiffel Tower to Blackpool Tower in June 2017 to raise funds for the mental health charity Mind.
The journey consists of a 600-mile bike ride between Paris and Blackpool, over the course of nine days. This immense challenge is being taken on by six ULIP students, three who have participated in previous years, and three new riders. In addition, they will be accompanied by a support crew, ready to act should anything go wrong.
Second-year student Sophie Boyle, this year's Bike Ride Committee Chair, says: "As students, Mind and the work they do for dealing with student mental health issues are very important to us. We're all nervous about the ride, which we know is going to be physically and mentally draining, so please help us, and Mind, by donating generously".
Vicky Urquhart, Community Fundraising Co-coordinator at Mind warmly thanked last year's ULIP Tower to Tower bike ride team: "We would like to say a huge thank you to the students at ULIP for taking on such a big challenge in order to raise funds for Mind. With the dedication and support of our fundraisers, Mind can reach more people, answer more calls and carry on speaking out for everyone affected by mental health problems."
One in four people will experience a mental health problem in any given year, but it is estimated only 25% of people with mental health problems receive support each year. The ULIP students aim to raise both money and awareness, so please do help the Tower to Tower bike ride team and Mind by spreading the word and donating at this link.